Rights-of-Way Maintenance
Rights-of-Way Vegetation Control – Utilizes both mechanical and chemical methods of application on utility and pipeline easements that have either potential or existing problems caused by unwanted trees, brush, weeds and/or grasses.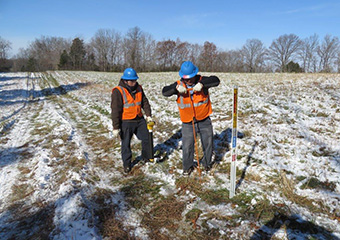 Coastal Spray's crews are OQ trained in clearing and maintenance of Pipeline ROW.
Mechanical Maintenance – Utilizes a variety of equipment to cut, clear, and remove unwanted vegetation with specified easements, including brush hog type tractors and mowers, articulated slope mowers, marsh-masters with attached mowing decks, tracked equipment with hydro-axe and grapple attachments. We use the most state of the art equipment including Fecon, Takeuchi, Jarraff, New Holland, Polaris, etc.
Selective Right-of-Way Chemical Control – Utilizes specialized spray application equipment on selected sites with the intent of bare ground control or Bermuda Release. Our equipment consists of four-wheel drive, high volume spray trucks, Ardco spray vehicles, spray tractors, as well as low volume back-pack sprayers. Target areas include transmission sites, road crossings, meter sites, and right-of-way markers.
Chemical Side Trimming – Prevents or eliminates encroachment from trees and or brush into the easement or right-of-way and can replace mechanical cutting or trimming that may be too costly or is not easily accessible by conventional equipment. Target areas include wetlands, marshes, and forests.