Coastal Spray offers a full range of landscaping services – from design to installation and maintenance. We have a track record of completing projects on time, on budget and safely.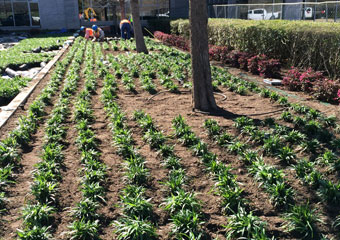 Experienced and safety qualified maintenance teams set the standard each day in planting, weed control, irrigation management, maintenance and repair. Additionally, we have three licensed irrigators, ensuring that your irrigation installation is completed in a cost-effective and environmentally friendly manner.
Coastal Spray offers the following industrial landscaping services:
Regular Maintenance
Mowing
Tree & Shrub Care
Fertilization
Design & Installation
Weed Control
Annual Color
Pest Control
Irrigation Installation
Drainage
Coastal Spray has the equipment for any landscaping job you may need. We utilize a very aggressive maintenance schedule to ensure our equipment is always in good condition. Our landscape crews are always prepared for changes that might need to be made immediately. Whether your need is emergency post-hurricane clean up, preparing for a freeze or emergency irrigation repair, Coastal Spray is fluid enough to service it.
**Read This article from our blog about Routine Commercial Landscaping**
Coastal Spray is licensed in Texas, California, Illinois, Indiana, Kentucky, Louisiana, Michigan, Mississippi, Ohio, and Tennessee.