Do Professional Brush Clearing Services Really Matter?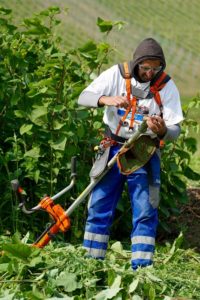 Brush Clearing Services Prepare Landscaping For New Construction
Want to prepare a landscape for a new construction or conservation project? Brush clearing servicesprovide you with a significant return on your investment. Some people think that professional land clearing doesn't really matter. After all, vegetation and tree stumps can be removed by hand, right? This isn't always the case. Here we've compiled some of the reasons why you need to hire a professional land clearing specialist.
What Is Brush Clearing?
Brush removal prepares your site for land clearing and construction access. Unlike hand clearing — a long and laborious process — forest mulchers and mowers remove vegetation, stumps and stones in preparation for your building project. Brush removal quickly cultivates a project site, reducing the arduous work associated with manual clearing.
Remove Unwanted Pests
Project sites with thick undergrowth are breeding grounds for pests like ticks and rodents. Brush clearing removes unwanted vegetation and fixes your site for construction or farming. The entire process is simple: a trained professional will visit your site and use specialized equipment to remove unwanted pests. If you have flowers and plants, pests can be a nuisance. This is why it's important to enlist the services of an expert.
Change Your Landscape and Increase the Value of Your Home
Wild bush, dead trees, unsightly stumps — all of these are an eyesore. When you hire a brush removal specialist, you can transform a property by getting rid of weeds, overgrown plants and general debris. The result? A cleaner, more attractive landscape. Removing unwanted vegetation and trees can even increase the size of a green space. In some circumstances, using a brush removal or right of way clearing professional could increase the value of your property. Research shows that an attractive landscape boosts a home's value by as much as 15 percent.
Prevent Fires
Getting rid of overgrown bushes and plants reduces the chances of your home catching on fire. A brush removal and tree trimming specialist can visit your property and remove any tall grass or dry and dead vegetation in a matter of hours. Coastal Spray is an industrial grounds maintenance company that specializes in brush removal services for customers looking for a cost-effective land clearing solution. We use the latest equipment and industry practices and have an experienced team who can handle your land clearing project.
Prepare a Landscape for Development
Brush clearing and tree removal services transform your landscape into a blank canvas — free from weeds, stumps and other obstacles that get in the way of construction. It also provides you with a safe space to work on your building project. Many real estate agents and property developers use land-clearing services before they start construction. If you want to prepare a site for development, choose a brush removal expert with lots of experience. This ensures that you get value for money and peace of mind.
Brush removal specialists tackle overgrown plants, tree stumps and stones on domestic and commercial properties. This could save you money and change the appearance of your landscape. Looking for a land clearing specialist you can rely on? Contact us at Coastal Spray to find out more. We can provide you with a quick quote so you know how much your land clearing project is going to cost.
Brush Clearing Services | Coastal Spray